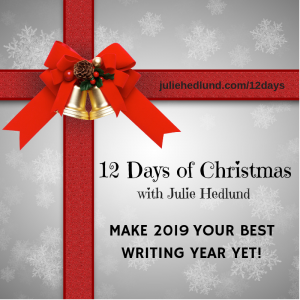 Like many of you, I begin each new year with a list of resolutions. My list typically includes a whole slew of things I wish I had done better and am resolving to change in the year ahead. This year I have decided to switch things up and end 2018/begin 2019 on a more positive note with a list of anti-resolutions – a list of accomplishments from 2018.
The idea is inspired by children's author, Julie Hedlund, who created this anti-resolution revolution as part of her 12 Days of Christmas for Writers series. She believes the way New Year's resolutions are traditionally made come from a place of negativity – what DIDN'T get done or achieved in the previous year. Instead, she suggests we set goals for the New Year that BUILD on our achievements from the previous one.
Here is my list for 2018:
Completed the following picture book courses:

The Children's Book Academy – Craft and Business of Writing Children's Picture Books (April – May 2018) – Kelly Delaney & Dr. Mira Reisberg

The Lyrical Language Lab – Punching up Prose with Poetry (Jan-March 2018) – Renee M. LaTulippe

Marcie Colleen Study Hall August 2018

Attended the following conferences:

Writer's Day 2018 – Skirball

LA Summer Conference 2018

SCBWI CenCal Picture Book Intensive Workshop 2018 – California Lutheran University.

Picture Book Summit 2018

WriteOnCon 2018

SCBWI CenCal Writer's Day 2018 – California Lutheran University.

Writer's Digest webinars; Craft a Picture Book That Sells 2018,

Joined Inked Voices

Met amazing critique partners/friends

Attended webinars and critique events with agents/editors such as Christina Pulles, Kate Jacobs etc.

Joined Rate Your Story

Received a 1 on one WIP and a 2 on another!

Joined 12×12

Attended monthly webinars

Participated in the forum

Met countless amazing people

Felt like an active member of the picture book community

Became more active on social media and gained over 1,000 followers on twitter.
Began telling people outside of my house that I am a writer
Wrote 4 new polished ps ms' and countless drafts
Hired a sitter to carve out writing time and made writing a priority
Got my first agent
Was offered a publishing contract by a small press
Joined an amazing group of Jewish writers in order to focus on my Jewish stories
Wrote an article for SCBWI's Kite Tales website
Was selected as one of the winners of Vivan Kirkfield's #50PreciousWords 2018 Writing Challenge
My take away from this exercise is that I accomplish a lot more than I think I do and I need to spend more time being grateful for the smaller milestones along the way. I highly recommend this exercise and hope it inspires you to start your year off with kindness and gratitude the way it has for me.
All the best for a happy, healthy and successful 2019!