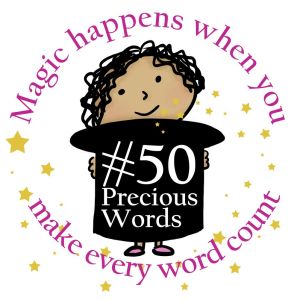 Here is my 2nd of two entries for Vivian Kirkfield's #50PreciousWords 2019 Writing Challenge!
This contest began in 2016, and this is my second year throwing my hat in the ring. The challenge was to write a complete story, appropriate for children (ages 12 and under), in 50 words or less.
I had a lot of fun participating in this challenge. Here's my 2nd of two entries. It is exactly 50 words (excluding title):
BETTER TOGETHER
By Charlotte Offsay
 
My brother can
JUMP
SWOOSH goes the net.
I can't reach.
 
My brother can
TOOOT
BARRUMP goes the trumpet
I can't play.
 
My brother can
RACE
WHOOSH goes the wind
I can't zoom.
 
Will I ever grow?
 
"Help!" I cry.
 
Together…
we can DUNK,
we can ROCK,
we can FLY.