Dashing into the library, my energetic 2-year-old b-lines to the truck in our public library. It is filled with books on his favorite subjects – construction, and trucks! He eagerly fills my arms with books for me to read to him, and my almost 4-year-old daughter over the next few weeks.
Fortunately for me, my children have inherited my love of picture books. I have listed the books we chose for February in order of the number of times each book was requested.
Highlights.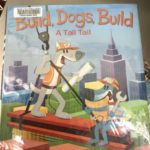 - Build Dogs Build barely beat out Foreman Farley Has a Backhoe for number of times read for both my children. Already a fan of James Horvath's books this rhyming story will be arriving at our house shortly for a permanent place on the bookshelf. Construction dogs build an apartment building with playful illustrations on each page.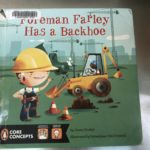 - Forman Farley Has a Backhoe took me a little longer to warm up to as it moves in and out of rhyme. Having now read it at least 50x however, I have to say the book is brilliant, not only is it a fun twist on 'Old McDonald Has a Farm,' but it takes the reader through the construction of a schoolhouse.
Top 6:
Horvath, James. Build Dogs Build - A Tall Tail. Harper. 2014.
Written in rhyme a group of construction dogs build an apartment building. Wonderful illustrations in which my kids noticed something new each time we read it. Tip – look for the cat on each spread.
Goebel, Jenny. Doninck, Sebastiaan Van. Foreman Farley Has a Backhoe. Penguin Group. 2014.
This book moves in and out of rhyme as construction workers build a school house. A fun twist on 'Old McDonald.'
Timmers, Leo. Gus's Garage. Gecko Press. 2017.
A rhyming tale about Gus and his Garage. Gus helps his visitors in creative ways which made my children laugh. Wonderful illustrations that drive home the message of finding treasure in someone else's garbage.
Zimmerman, Andrea. Clemesha, David. Train Man. Henry Holt and Company. 2012
A simple yet fun story of a little boy who wants to be a train man. Lovely relationship between siblings.
Greene, Rhonda Gowler. Kirk, Daniel. Push! Dig! Scoop! Bloomsbury Children's Books. 2016
A construction counting rhyme that was fun to read at bedtime.
Austin, Mike. Fire Engine No. 9. Random House. 2015.
A simple story full of sounds that my children enjoyed mimicking.
We also enjoyed:
Plourde, Lynn. Santoro, Christopher. Grandpappy Snippy Snappies. Harper Collins. 2009.
Cuyler, Margery. Kolar, Bob. The Little Fire Truck. Henry Holt and Company. 2017.
Magoon, Scott. The Boy Who Cried Bigfoot! Simon & Schuster Books for Young Readers. 2013.
Stein, Peter. Staake, Bob. Trucks Galore. Candlewick Press. 2017.
Bee, William. And the Cars Go… Candlewick Press. 2013.
Clay, Kathryn. Cranes. Capstone Press. 2017.
Bently, Peter. Roberts, David. Those Magnificent Sheep in Their Flying Machine. Anderson Press USA. 2014.
McMullan, Kate. MuMullan, Jim. I'm Cool! Balzer + Bray. 2015
Benmelmans, Ludwig. Madeline in London. Penguin Group. 1961.
We picked up our books for March this morning. I am looking forward to seeing which ones capture their attention this month!